Peaky Blinders premiered in 2013 and has already been broadcast for six seasons. However, the allure of this story has not faded.
A fast-paced thriller with numerous twists and turns revolving around political intrigues and horrific bloodshed made the Peaky Blinders gang of the Shelbys in Birmingham famous.
Each member of the Shelby family stands out for their own personality and color. The film's soul is the chilly, silent, but extremely astute billionaire Thomas Shelby (Cillian Murphy). But what truly distinguishes the Peaky Blinders empire is the family members' cohesion and mutual trust, establishing an emotional thread throughout that allows the spectator to enjoy seeing every step of the mafia clan.
It would be rude not to include Thomas's right-hand man, Arthur (Paul Anderson), the eldest brother. A gangster who is hooked to drink and narcotics and is not scared to shoot or kill blood. But why is this character so well-liked by the audience? Let's find out the hidden things behind Arthur Shelby – Peaky Blinders' wildest card.
Peaky Blinders Arthur
Light and dark patches in Peaky Blinders Arthur Shelby
Peaky Blinders Arthur can be considered the most complicated piece in the Shelby family, Peaky Blinders brother, where everyone has psychological trauma. In each of Peaky Blinders' missions, Arthur and his youngest brother John are always the ones to execute Tommy's orders to lead bloody killing scenes.
Arthur's violence and anger seem to have no end, causing the unjust death of a teenager on the boxing floor. Or the permanent injuries on his wife's friend's face after uncontrolled jealousy. So his aunt Polly (Helen McCrory) called Arthur the "mad dog" of the Peaky Blinders.
The director always puts Arthur in difficult situations like when Tommy sent his brother to meet a group of Russians in season 3. Here, Arthur with a wedding ring in his hand faced the temptation of a group orgy. And the scene where Arthur surrenders to the temptation to scream "By fucking Birmingham" when there is no cloth left on his body is considered one of the best segments of season 3.
The struggle between good and evil in Arthur is the most unique feature of the whole TV series. There are many segments that make viewers realize that this man is not simply a bloodthirsty mafia.
After the death of Grace – Tommy's great love, Tom sent Arthur and John to kill the Changretta wife to take revenge. But this innocent woman was the childhood teacher of all 3 brothers, in the end, Arthur Shelby refused to cross the line of not touching women and children, and closed Tommy's rage with a saying "We're not that gonna be".
Or like at the end of season 3, when Tommy caught Vicente Changretta (Kenneth Colley), instead of torturing the assassin as slowly as Tommy wanted, Arthur pulled the trigger decisively to bring a quick death, least pain for his family's enemies. This marked a mature step in Arthur's psyche.
It can be seen that, behind the crimes, the times when immersed in alcohol and drugs are the pain and sadness that is difficult to name, always tormenting Peaky Blinders Arthur. So what makes this gangster guy always consider killing and hurting others as the only way out for himself?
Post-Traumatic Stress Disorder (PTSD): The Ugly Scar from World War I
Post-traumatic stress disorder is a mental disorder that occurs after a person is exposed to a traumatic event, with strong psychological effects such as war or other life-threatening events. Arthur, Tommy, and John – Peaky Blinders brother were all sent to the Western Front of France during World War I, where they were subjected to the most horrifying and devastating scenes.
>>> RELATED: Peaky Blinders Explained: Why Is This Series Worth Watching?
The battle never really ended for all three of the Shelbys even as they returned to life in Birmingham. Peaky Blinders did an excellent job of portraying the psychological aftermath of the war in a very subtle way.
Depression is like a ghost moving quietly, slowly, creeping into every corner, every behavior of men who once held guns to protect the interests of the country. The ugly scars from the war make Tommy an apathetic man, separating himself from family and friends and alone suffering from nightmares every night. It also makes Peaky Blinders Arthur and John forever stand on the brink of rage and it seems that the only relief is the scuffles, bloody attacks.
Panic and disorientation, bouts of depression, uncontrollable anger, and phobias are the consequences of war. World War I sucked the emotions of the soldiers.
Soldiers instead of seeking help from others turn to alcohol and drugs as consolation. Pride, fear of discrimination, and rejection are like invisible walls separating these soldiers from peacetime life, family, and friends. Bombs have dissolved the line between good and evil in them.
Arthur is not haunted by nightmares like Tommy. But clearly, the post-war trauma left him powerless to resist his own anger and violence. Sadly, his time in the war in France was not the only cause of the hurt and sadness that this character brought with him throughout the six seasons.
The Most Vulnerable Piece of Shelby Family
It is not surprising that almost every member of the Peaky Blinders family is addicted to alcohol, and tobacco and has a tendency to depression. Growing up with such family circumstances, along with incomplete childhood has created cold-blooded gangsters.
>>> RELATED: Peaky Blinders Style: The Look of the Kingpins of Birmingham
Perhaps of the Peaky Blinders brother, Arthur was the saddest. In season 2, when the heartless father after many years of abandoning his wife and children returns to Birmingham, Arthur is the only one who opens the door to welcome him. The father's promises after many years of separation make the person dubbed "mad dog" like back to be a gentle puppy, an innocent child who craves affection from the person who gave birth to him.
All three Shelby brothers grew up in the absence of an adult male to lead. An emotional child, somewhat inferior to his younger brother like Peaky Blinders Arthur, must always expect recognition and approval from his father.
The scene of the father and son of the Shelby family in the boxing ring is a moment worth pondering. Arthur never wanted to hit his father, and when his father raised his arm, calling him a champion made Arthur happy because he felt the recognition he had been looking for for so long.
But the comfort and promise of a bright future in America hurt Arthur deeply when his father once again leaves after having tricked Arthur for money and trust. This event really caused Arthur to collapse to the point of suicide but failed.
Arthur and Tommy are two siblings but with very different personalities. Arthur is more vulnerable in many ways. Although Tommy is not the eldest, he is the one who truly holds all the power of the Peaky Blinders. This is the cause of insecurity, guilt, and inferiority that always torment Arthur.
Besides violence and out-of-control anger, Arthur is always family-oriented, loyal to his brother, and loves Tommy very much. At the racecourse of Darby Sabini (Noah Taylor), Arthur brutally killed one of his two brother's two unsuccessful assassins. And that's not the only time, in season 3 Arthur killed two assassins sent to assassinate Tommy.
The relationship between Arthur and Tommy is something worth mentioning. In season 1, Tommy bought the Garrison pub, putting Arthur in charge as a sign of trust between the two brothers. Tommy and Grace's wedding scene is also a rare bright moment between the two Shelby brothers.
But in the missions of Peaky Blinders, Tommy always uses Arthur as a wild weapon, an effective killing card. Every time Arthur showed signs of psychological breakdown, Tommy instead of listening, accepting his brother's feelings persuaded Arthur to bottle his anger and pull him back into bloody clashes.
The relationship between the two brothers also raises questions for viewers when Tommy laughs at Arthur's failed suicide attempts because Peaky Blinders Arthur believes he is a failure. Toxic misunderstandings about masculinity and stereotypes about depression in men from their own family members make Arthur grapple with the devil in his mind alone.
What is wrong with a man suffering and expressing negative emotions with tears? The bloody scenes shot on the repentant face of actor Paul Anderson made the audience feel uneasy. Was it Tommy who took advantage of his brother's blind loyalty and dragged Arthur into the mire of crime?
Peaky Blinders Arthur in the position of husband, father
Not only stuck in the relationship with his brother, but Arthur is also always torn in the role of a husband, a good father, and a loyal right-hand man Tommy.
Arthur Shelby wife Linda (Kate Phillips) is a devout Christian, but will love from her family and being a good woman be the answer to the psychological trauma of war? Linda's appearance in season 3 gives viewers hope for the future of "mad dog" Peaky Blinders.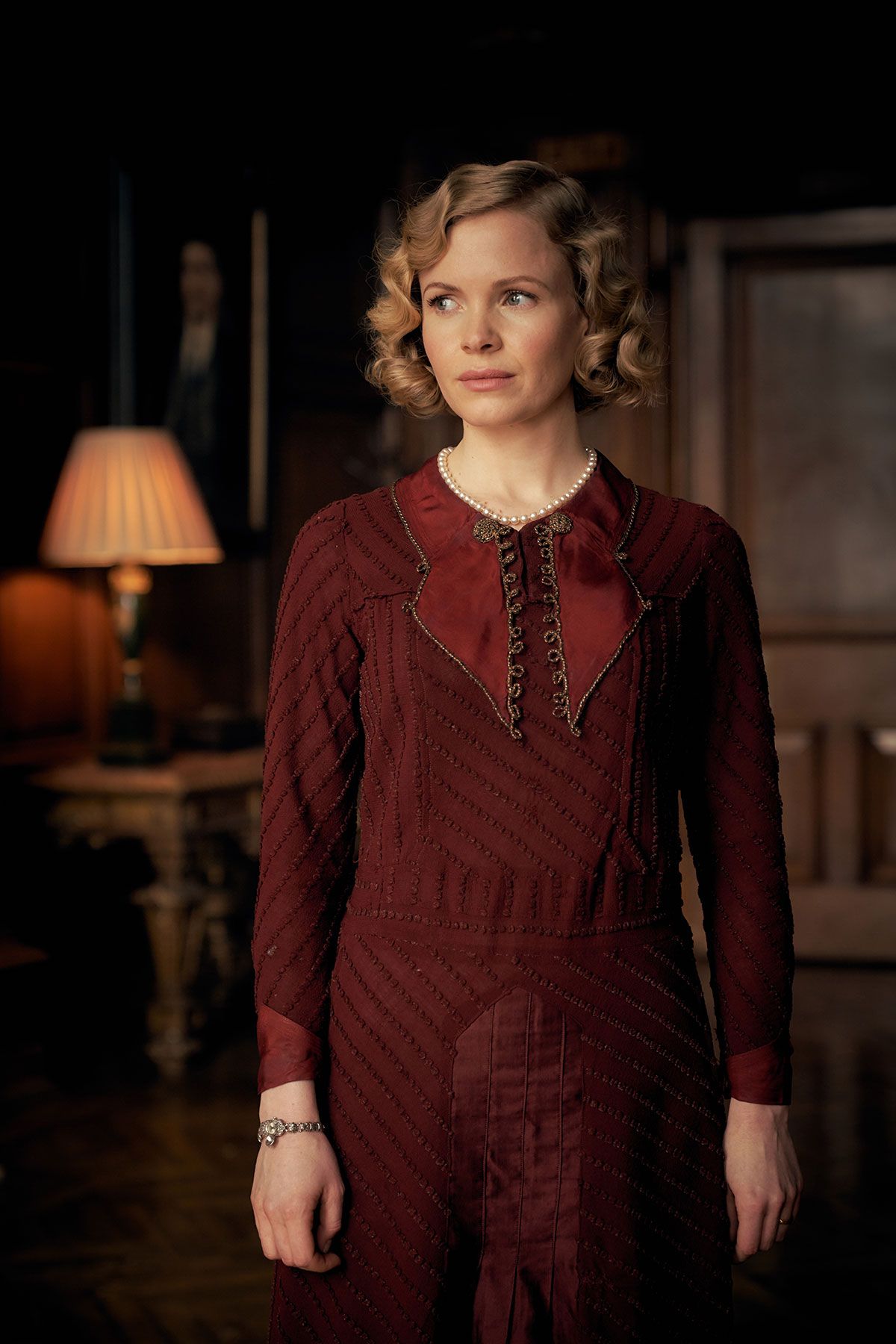 Family life causes Arthur to try to control his violence and strive to be a good man. The fact that John was murdered in season 4 made Arthur boil with the intention of revenge. But under Linda's persuasion and faith in God, Arthur agreed to leave this task to Tommy.
Linda's voice calms the anger, temporarily pulling Arthur away from alcohol and drugs. But the awakening Linda brought did not save him. Under the agitation of Mosley (Sam Claflin) in season 5, Arthur vented his anger on an acquaintance of Linda as the last straw for the marriage between the two.
Deep inside, Arthur is aware of the chaos in his mind that never ends. Life with Linda just made him someone he wasn't. Is the place where Arthur really belongs in the position next to Tommy even if Arthur might have to pay with his life?
In season 3, Peaky Blinders Arthur has become a father, will the absence of a father in his childhood cause him to do the same to his son? The answer still awaits viewers in season 6. But at the end of season 3, Arthur missed the opportunity to start over in California with Linda because of a clash with the Changretta family. And maybe it's only a matter of time until Arthur loses himself again.
Arthur really won the sympathy of the viewers because of his very real emotions and the desire to find meaning in his own existence and in everything around him. Living in a world full of suffering and death, Arthur has never faltered in the face of the devil in himself. Besides the lingering insecurities and psychological wounds, Arthur is still a brave Peaky Blinders warrior, doing everything to protect his gang and family.